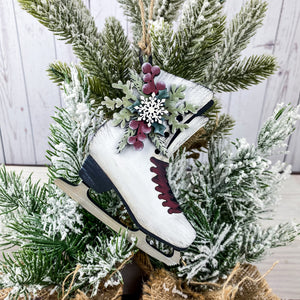 Are you looking to add a touch of winter charm to your Christmas tree this year? Look no further than our Ice Skate Christmas Tree Ornament. This beautifully crafted ornament captures the essence of the holiday season with its rustic farmhouse design and intricate details.
Each Ice Skate Christmas Tree Ornament is meticulously handmade, ensuring that no two pieces are exactly alike. Made from high-quality materials, this ornament is built to last and can be cherished for years to come. Whether you're a fan of ice skating or simply love the cozy feel of winter, this ornament is the perfect addition to your Christmas decor.
Not only does the Ice Skate Christmas Tree Ornament add beauty to your tree, but it also serves as a wonderful gift-giving idea. Surprise your loved ones with this unique and thoughtful ornament, perfect for families, women, and anyone who appreciates the magic of the holiday season. It's a great way to show your loved ones that you care and to create lasting memories.
The Ice Skate Christmas Tree Ornament is designed to complement any Christmas decor style. Its rustic farmhouse charm pairs perfectly with traditional, vintage, and even modern themes. The neutral color palette ensures that it will seamlessly blend with your existing decorations, while the intricate details add a touch of elegance.
We take pride in our craftsmanship and attention to detail. Each ornament is carefully hand-painted, ensuring that every stroke is precise and every detail is captured. The result is a stunning piece of art that will add beauty and charm to your holiday season.
When you purchase the Ice Skate Christmas Tree Ornament, you're not just buying a decoration. You're investing in a piece of holiday magic. It's a gift that keeps on giving, bringing joy and warmth to your home year after year. Don't miss out on this opportunity to make your Christmas tree truly special.