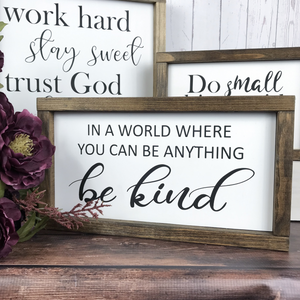 In a world where you can be anything Be Kind, the world has enough critics already. One kind word can change someone's entire day! Our sign works with many different styles from clean and modern to rustic farmhouse. It comes in a beautiful white wash background with hand painted lettering design. All of our items are 100% hand crafted, painted, stained in our shop! Sign and frame are made from solid wood.
In a world where you can be anything Be Kind sign measures approx.:   12.5″ x 7″
Looking for more home decor?  Check out the rest of our shop!
All signs are handmade by us! They are expertly hand cut, sanded, painted, and sealed. Due to the nature of wood there will be some knots and imperfections in the wood. This adds to the character and uniqueness of each sign. We hand pick the wood ourselves and do our best to only select the best quality for our customers. We do our best to choose high quality wood with the least imperfections as possible. Sizes of the signs may vary within 1/2″ of stated dimensions.