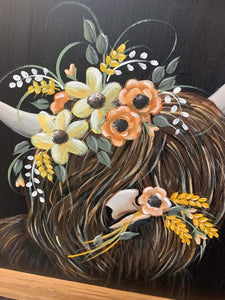 We cannot get over this one of a kind hand-painted highlander cow! This sign is unique in itself as it is hand-painted. We do our best to paint these as close to the original as possible. Although because we pride ourselves on being hand painted each one may have slight differences. Know that this means that your sign will be unique to only you as there will be slight variations! How amazing is that?! We love the rustic boho look of this sweet highland cow wall art. We take so much pride in the work we do and guarantee you will love this farmhouse style wood framed signed as much as we do.
Our shabby chic sign measures at 11.5" by 12.5".
Looking for more home decor? Check out the rest of our shop!
All signs are handmade by us! They are expertly hand cut, sanded, painted, and sealed. Due to the nature of wood there will be some knots and imperfections in the wood. This adds to the character and uniqueness of each sign. We hand pick the wood ourselves and do our best to only select the best quality for our customers. We do our best to choose high quality wood with the least imperfections as possible. Sizes of the signs may vary within 1/2″ of stated dimensions.