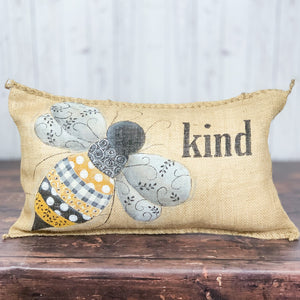 This beautiful bee kind is absolutely bee-autiful!! This pillow is unique in itself as it is hand-painted. We do our best to paint these as close to the original as possible. Although because we pride ourselves on being hand painted each one may have slight differences. Know that this means that your pillow will be unique to only you as there will be slight variations! How amazing is that?!  We take so much pride in the work we do and guarantee you will love this farmhouse style pillow as much as we do.
Our Bee Kind Porch Pillow is hand painted with acrylic paint on burlap and measures at 17" x 10".
Looking for more home items to fit with your country and rustic farmhouse style? Check out the rest of our shop!
Gorgeous!!!
the pillow is just gorgeous and i am going to keep it up year around !!