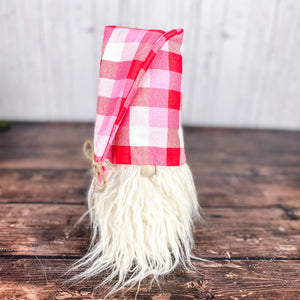 Pink and red plaid gnome is great as a shelf sitter and can also be used with Valentine's tiered tray decor. These adorable Valentine's day gnomes are now in two different sizes so you can pick the best size for your decorating needs. These shelf sitters work great on side tables as well or can be put in those baskets and set on a table or ottoman. These little guys have a beautiful cream beard that looks like a real one with the curls and less like fur. They come with a sweet Valentine's day fabric as their hat and have adorable wooden noses.
Gnome is approximately 11"

Looking for more home decor? Check out the rest of our shop!
All our whimsical gnomes are handmade by us in the USA. They are expertly created, and assembled. We hand pick the fabric ourselves and do our best to only select the best quality for our customers. We do our best to choose high quality products when looking for materials to create your items. Sizes of the gnomes may vary within 1/2″ of stated dimensions. Although product may look similar to the picture it will not be exact due to the handmade process